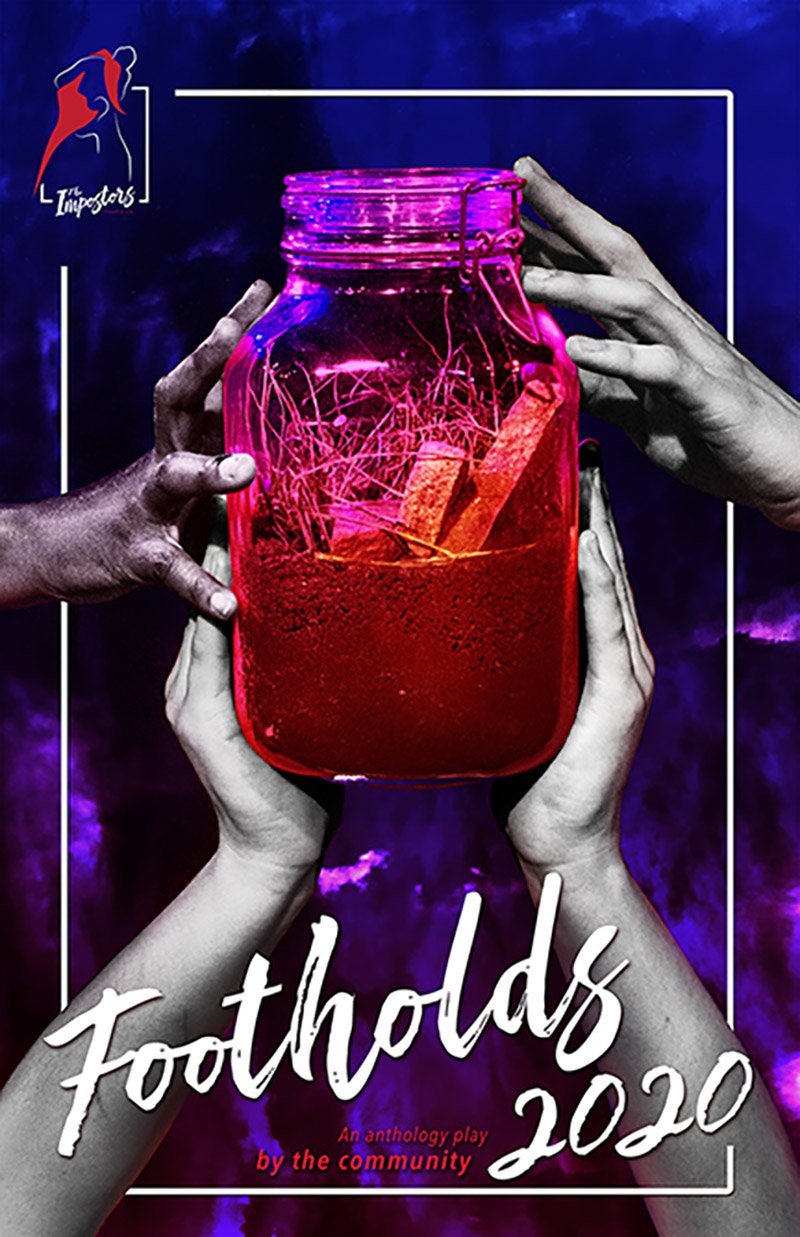 Footholds 2020
By the Community
Premiered on November 13, 2020
A Socially Distant Film
A successful community collaborative makes its return for our second season.

Footholds is an anthology series written by playwrights from across the Chicagoland community. The idea was conceived as a reaction to one of the most frustrating and intimidating villains an artist can face: a blank page. A blank canvas allows for infinite possibilities, but this can sometimes act as a hindrance. With no definitive starting point, it can be difficult to realize a final product.

By introducing a single, ambiguous constraint, a crack in the block of marble, we ask our writers and collaborators to start with the same limitation and branch off wherever their imaginations take them. This year's foothold:
A large glass jar, half-filled with earth.


Footholds 2020 is available for audiences to view from the comfort of their homes strating on November 13, 2020. While the COVID-19 pandemic forced us to cancel live performances of the production, we rounded up a team of performers, scouted an outdoor location, and filmed a socially distanced version of the anthology. Working in this format unleashed a lot of freedom for us to showcase our interpretations of the selected short plays—we hope you enjoy watching them as much as we've enjoyed creating them!

Humanities by Caroline Hyde
Up in the heavens, deities in training begin to learn the finer aspects of world-building. As they delve into their creations, the class assignment takes an unexpected turn.

Unnatural by Jessica Edelman
An open letter to humans, written from Earth's perspective. This piece explores responsibility and spirituality through both words and movement.
(and i feel fine) by Paul Michael Thomson
After the climate crisis alters the world, Chicago becomes the mecca of theatre in the country formerly known as the United States of America. Two displaced actors—one from New York City, the other from Los Angeles—send their representatives to meet with the artistic director of the most prestigious theatre company in Chicago to figure out how to break into the scene.
Ensnared by Michelé Strachota
Atlas is on the run, desperately trying to hide from two bullies who threaten him and his talent. While he evades them in the trees, the question becomes more and more clear—is he afraid of the bullies, or what he'll do to defend himself?
Untitled Mantis Play (Chronicle of a Death Foretold) by Marjorie Muller
Two captured praying mantises watch life go by from behind the glass of their small jar home. Santiago is infatuated with his captor, but Lisa yearns for freedom. While tensions of both the frustrated and sexual variety mount, the two plot a potential escape.

Production
Director Stefan Roseen
Assistant Director Rachel Borgo
Director of Photography Kyle Smart
Video & Audio Editor Kyle Smart
Audio Engineer and Sound Operator Ethan Gasbarro

Executive Producers
Stefan Roseen
Rachel Borgo
Kyle Smart

Producers
Dominick Vincent Alesia
Ethan Gasbarro
Emma Smart

Production Assistants
Kayla Belec
Callum James

Camera Operators
Callum James
Ethan Gasbarro
Ruth Smart
Mallory Swisher
Stefan Roseen

The Cast
Musician Dominick Vincent Alesia

Humanities by Caroline Hyde
Paul Brandon Nelson
Maia Alexis Willis
Cam Victor Lopez
Freya Diana Nettare
Instructor Bran Emily Gulbrandsen

Unnatural by Jessica Edelman
Earth Alexis Willis

(and i feel fine) by Paul Michael Thomson
AD Emily Gulbrandsen
SM Diana Nettare
LA Brandon Nelson
NY Alexis Willis

Ensnared by Michelé Strachota
Atlas Brandon Nelson
Mallory Diana Nettare
Clay Victor Lopez

Untitled Mantis Play (Cronicle of a Death Fortold) by Marjorie Muller
Santiago Victor Lopez
Lisa Diana Nettare




Return