Become an accomplice of The Impostors Theatre Company by pledging a donation today. We rely on the support of generous donors in our community to allow us to share our stories.

To pledge a donation today, please click here!
The Impostors Theatre Co. is a sponsored project of Fractured Atlas, a non-profit arts service organization. Contributions for the charitable purposes of The Impostors Theatre Co. must be made payable to "Fractured Atlas" only and are tax-deductible to the extent permitted by law.
Your contribution will go to:
- Performance and rehearsal space
- Production costs
- Community events
- Compensating artists for their work
- Educational outreach programming
- Publicity



The Impostors offer multiple tiers of support:


You are a SLEUTH. ($1 - $49)
The search for stability is on, and you've given us the first clues as to where we should start. Your keen eye keeps us discerning when the investigation is cloudy. You are both the preparation and the possibility.


You are a PATHFINDER. ($50 - $99)
Help us find our footing. On the road you've helped pave, pebbles in our shoes won't halt our steps. The only way now is forward, and your gift propels that motion.


You are a BEGUILER. ($100 - $249)
You have charmed us with your interest in The Impostors. You are the flute and we are the snake, and more than anything, we wish to include you in our coil.

You are a CONSPIRATOR. ($250 - $499)
We have a believer in our midst. This is a special friendship, one of trust and support. With your gift, you match us step for step: our work, your support. Your expectation, our provision. An inextricable pair.


You are an INSIDER. ($500-$999)
Not only do we want your support, but also we value your opinion. Not many get a look behind the curtain, but your investment in The Impostors proves to us that you have an insight worth hearing.


You are a TORCHBEARER. ($1000+)
Where it is dark, you shine the light. With your gift, we have the privilege to foresee what the Art of Pretend has in store for us down the road. Equip us with sight and we will bring to you what we see.
To pledge a donation today, please
click here!
Thank you very much for your interest and support of The Impostors!
DONORS
Season One
SLEUTH ($10 - $49)
Maenon Belec
Jackie Bobbitt
David Bremer
RJ Cecott
Robin Lestina-Cikanek
Jonathon Drake
Karen Epton
Matthe Fobbe
Ann Kessler
Robin Lestina-Cikanek
Victoria Phillips
Beata Ramza
Abby Sandberg
Kim Scanlan
Annie Vandekerchove
Michelle Zolfo

PATHFINDER ($50 - $99)
Marla and Doug Belec
Lauren Bjorklund
Rachel Borgo
Frankie Caputo
Salena Elish
Patrick Slattery
Betsy Thiel
Raymond Valek


BEGUILER ($100 - $249)
Ashleigh Happer
Thomas and Katie Johnson
Kathy Kerstowske
Dylan Ladd
Joel and Christine Lehmann
Carol Mancini
Michael Micek
Lee Orchard
Lindsay Rowley
Stephen Sienicki

CONSPIRATOR ($250 - $499)
Elmer Kerstowske
Cuppy Roseen & Ken Brown
Allison Schuette

INSIDER ($500-$999)
Stacey & James Roseen
Paul and Donna Swanstrom
Season Two
SLEUTH ($1 - $49)
Anonymous
Abigail Accettura
Monica Albers
Drew Michelle Billman
Victoria Bruick
Anne Burke
RJ Cecott
Nathaniel Cox
Angela Fama
Danny Ferenczi
Johnny Goodrich
Ashleigh Happer
Jake Hughes
Caroline Hyde
Patrick Jansen
Connor Jenkins
Marcellus J. Johnson
Richard Klos
Kara Krueger
Nicholas Kwiescinski
Claire Malkie
Josh Marshall
Andrew Martin
Malorie Masek
Michaelle McLowry
Jeremy Mendoza
Wendy Merchant
Emily Mikes
Elizabeth Mook
Kasey Mooney
Lauren Oscarson
Candace Roberson
Lindsay Rowley
Stephanie Sepiol
Kara Smart
Matthew Perry Smith
Nick Strauss
Genevieve Valek
Ashlyn Wiebe

PATHFINDER ($50 - $99)
Marla & Doug Belec
Nicole Blas
Christine Borgo
Melissa Butts
Margaret deVeer
Nancy Evans
Kathleen Fenner
Mary Ann & Victor Gulbrandsen
Mark Haller
Stacey Kellogg
Andrea Leahy
Amy Lind
John Drake & Katie Mooney
Ian & Lindsey Roseen
Jeff Schultz
Dave & Kim Skala

BEGUILER ($100 - $249)
Anonymous
Janet Conlon
Mary O'Brien & Jess Edelman
Joseph Gianotti
Katie Johnson
Kathy Kerstowske
Maigan Kornas
Joel & Cristine Heinecke Lehmann
Tim McCarthy, Sr.
Bethany Borgo & Brian Moore
Lee Orchard
Don & Anne Phillips
Beata Ramza
Emily Schwank
Ray Valek

CONSPIRATOR ($250 - $499)
Nicholas Dapkus
Robin Lestina-Cikanek
Tim McCarthy & Stephanie Lewis
Ken Brown & Cuppy Roseen

INSIDER ($500-$999)
Anonymous
James & Stacy Roseen
Paul & Donna Swanstrom

TORCHBEARER ($1000+)
Daniel and Rachael Segner
Season Three
SLEUTH ($10 - $49)
Anonymous
Leah Birhanu
Jackie Bobbitt
Rachel Corradin
Katie & Jon Drake
Angela Fama
Frank Fama
Danny Ferenczi
Rebecca Gesme
Chris Gierymski
John Goodrich
Vic and Mary Ann Gulbrandsen
Anna Hayden-Roy
Megan James
Jaclyn Jensen
Susan and Frank Kolecki
Jon Koob
Amy Lind
Hali Machell
Olivia Napper
Priya Pierie
Candace Roberson
Liana Rudin
Emily Schwank
Martha Thieneman
Elly Walsh-Rock

PATHFINDER ($50 - $99)
Anonymous
RJ Cecott
Margaret deVeer
Susan Doria
Logan Jones
Kyle Kolecki
Rebecca Parker
Callie Persic
Ian and Lindsey Roseen
Lindsay Rowley
Matthew Smith


BEGUILER ($100 - $249)
Anonymous
Bethany Borgo
Nicholas Dapkus
Mary & Jessica Edelman-O'Brien
Elmer Kerstowske
Lee Orchard
Christine Palkovic
Rebecca Parker
James Petersen
Jeanette Quirk
Beata Ramza
Allison Schuette
Jeff Schultz
Sue Stevens
Judy Swisher
Andrew & Chistine Timcheck
Christine Umerley
Ray Valek

CONSPIRATOR ($250 - $499)
Doug & Marla Belec
Elaine Thiel

INSIDER ($500-$999)
Ken and Cuppy Brown
Kathleen Kerstowske
Robin Lestina-Cikanek
Paul Nigrelli

Torchbearer ($1000+)
Rachael and Dan Segner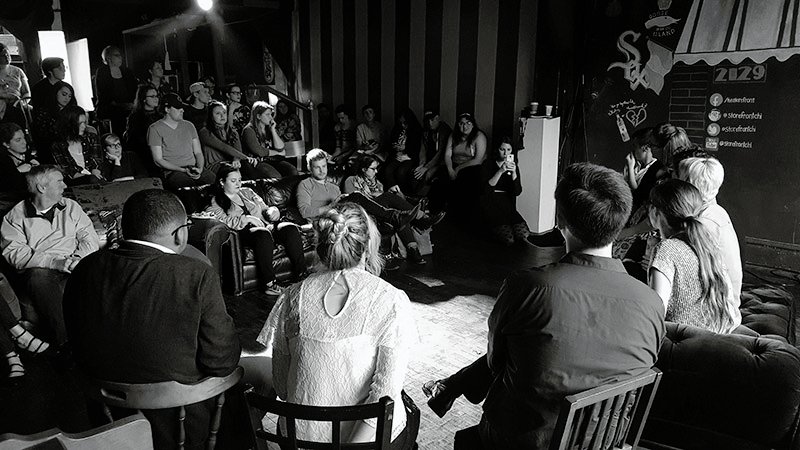 Volunteering
To find out more about volunteering with The Impostors, please contact us at impostorstheatre@gmail.com with the subject "Volunteer"