Become an accomplice of The Impostors Theatre Company by pledging a donation today. We rely on the support of generous donors in our community to allow us to share our stories.

To pledge a donation today, please click here!
The Impostors Theatre Co. is a sponsored project of Fractured Atlas, a non-profit arts service organization. Contributions for the charitable purposes of The Impostors Theatre Co. must be made payable to "Fractured Atlas" only and are tax-deductible to the extent permitted by law.
Your contribution will go to:
- Performance and rehearsal space
- Production costs
- Community Events
- Compensating artists for their work
- Educational outreach programming
- Publicity




The Impostors offer multiple tiers of support:

You are a SLEUTH. ($10 - $49)
The search for stability is on, and you've given us the first clues as to where we should start. Your keen eye keeps us discerning when the investigation is cloudy. You are both the preparation and the possibility. As a SLEUTH, you receive:
- Impostors Season Button
- Your name on our website
- Priority access to ticket and merchandise releases

You are a PATHFINDER. ($50 - $99)
Help us find our footing. On the road you've helped pave, pebbles in our shoes won't halt our steps. The only way now is forward, and your gift propels that motion. As a PATHFINDER, you receive:
- A ticket to an Impostors show of your choice
- Signed poster for that show of choice
- All benefits of above

You are a BEGUILER. ($100 - $249)
You have charmed us with your interest in The Impostors. You are the flute and we are the snake, and more than anything, we wish to include you in our coil. As a BEGUILER, you receive:
- A Season Pass (1 ticket per show.)
- Invitation to an Ensemble Meeting
- All benefits above

You are a CONSPIRATOR. ($250 - $499)
We have a believer in our midst. This is a special friendship, one of trust and support. With your gift, you match us step for step: our work, your support. Your expectation, our provision. An inextricable pair. As a CONSPIRATOR, you receive:
- 2 Season Passes (2 tickets per show.)
- An after-party Invitation
- All benefits above

You are an INSIDER. ($500-$999)
Not only do we want your support, but also we value your opinion. Not many get a look behind the curtain, but your investment in The Impostors proves to us that you have an insight worth hearing. As an INSIDER, you receive:
- Sneak Peek & Talk Back of show of your choice
- All benefits above

You are a TORCHBEARER. ($1000+)
Where it is dark, you shine the light. With your gift, we have the privilege to foresee what the Art of Pretend has in store for us down the road. Equip us with sight and we will bring to you what we see.As a TORCHBEARER, you receive:
- Dinner with the Artistic Director, Stefan Roseen.
- Personalized Deluxe Script of your show of choice
- All benefits above
To pledge a donation today, please
click here!
Thank you very much for your interest and support of The Impostors!
Season One Donors
SLEUTH ($10 - $49)
Maenon Belec
Jackie Bobbitt
David Bremer
RJ Cecott
Robin Lestina-Cikanek
Jonathon Drake
Karen Epton
Matthe Fobbe
Ann Kessler
Robin Lestina-Cikanek
Victoria Phillips
Beata Ramza
Abby Sandberg
Kim Scanlan
Annie Vandekerchove
Michelle Zolfo

PATHFINDER ($50 - $99)
Marla and Doug Belec
Lauren Bjorklund
Rachel Borgo
Frankie Caputo
Salena Elish
Patrick Slattery
Betsy Thiel
Raymond Valek


BEGUILER ($100 - $249)
Ashleigh Happer
Thomas and Katie Johnson
Kathy Kerstowske
Dylan Ladd
Joel and Christine Lehmann
Carol Mancini
Michael Micek
Lee Orchard
Lindsay Rowley
Stephen Sienicki

CONSPIRATOR ($250 - $499)
Elmer Kerstowske
Cuppy Roseen & Ken Brown
Allison Schuette

INSIDER ($500-$999)
Stacey & James Roseen
Paul and Donna Swanstrom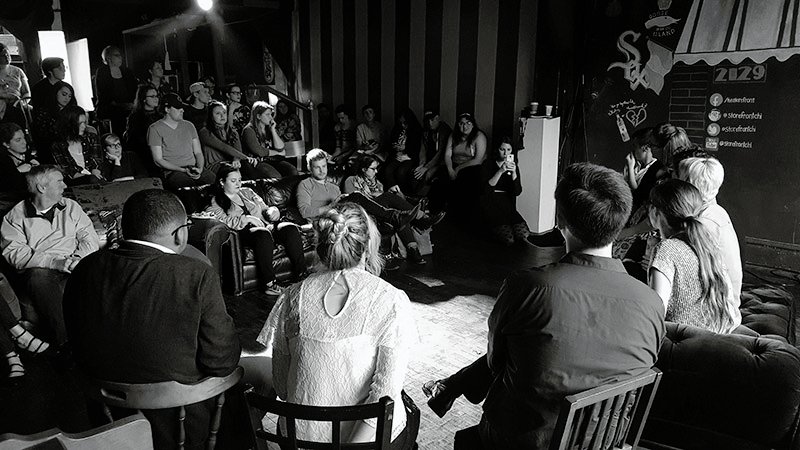 Volunteering
To find out more about volunteering with the Impostors, please contact us at impostorstheatre@gmail.com with the subject "Volunteer"